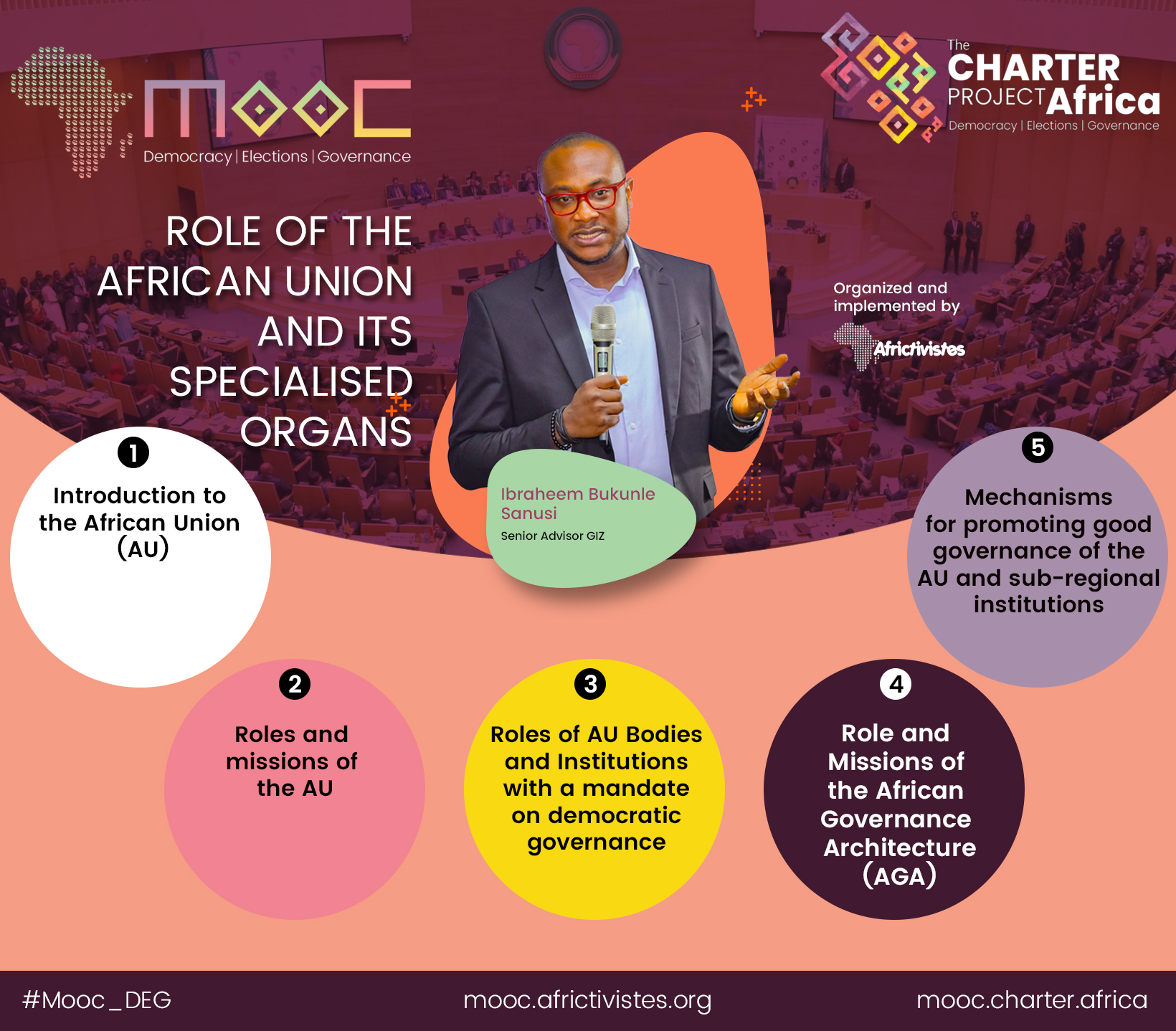 Role of the African Union and its specialised institutions
Description
This course will show that the African Union (AU) through its organs and instruments such as the African Charter on Democracy, Elections and Governance (ACDEG) has taken the necessary steps to strengthen  the organs that are mandated to promote and protect human rights and combat impunity and to provide the organs with the necessary resources.
Objectives
This course aims to provide an understanding of the AU and its institutions, its functioning, role and missions. Beyond teaching these basics, learners who are mostly civil society members need to be briefed on how to engage effectively with the AU and its specialised institutions :
Provide reliable data on mechanisms for engaging with AU organs in order to:
Foster citizen participation in AU institutions
Strengthen civil society across Africa in its capacity to represent citizens at the continental level, working to promote democratic governance in AU member states.
Strengthen civic initiatives, particularly those led by youth in their ability to harness knowledge, data and techniques to analyse, monitor and promote the implementation of the ACDEG.

Consolidate existing links between African Union policy makers, national decision makers and civil society organisations as they work together to address the challenges of democratic governance on the continent

Course outline
Introduction to the African Union (AU)
Roles and missions of the AU

Roles of AU organs and institutions with a democratic governance mandate

Role and missions of the African Governance Architecture (AGA)

AU mechanisms for promoting good governance and regional economic institutions

.
Course requirements
The DEG MOOC is free and open to everyone.
Evaluation
A quiz at the end of each module will allow participants to assess themselves. This evaluation will be based on the content of the videos.
In addition to this systematic evaluation, participants will have the opportunity to ask open questions on the MOOC forum.
Teaching team
Course instructor: Ibraheem Bukunle Sanusi, Advisor on the Joint African Union – German Cooperation on Citizens Participation and Innovative Data Use for Africa's Development.
Course coordinator: Andrew Songa, Coordinator of the Civil Society Secretariat for the Charter Project Africa